From our Lead Pastor Jeremy Smith
I recently heard a quote that caught my attention: "God goes to those who have time to hear Him."
It caught my attention because I want to hear God more in my life. I want to know God more in my life. I want to be transformed by God more in my life. My guess is you do as well.
Which is why to begin this new year, we are calling our whole church to 10 days of prayer and fasting. We're asking everyone to fast lunch from January 9-18 and to spend that time praying. If you can't fast lunch, then find another meal to fast, or just find some time to pray. The important thing is we're making time for God. Most of our campuses will have a space set aside on the campus for prayer during the lunch hour for most of the work week days.
Now, before you think, "there's no way I'm doing this," hear me out.
1. We're starting simple and easy. It's just one meal. You can do this!
2. You want to know God more, but that requires time and intentionality. This is a way for us to do that together. This is what you already wanted but maybe didn't know how to get.
3. This is something Jesus calls us to do in following Him. In Matthew 6:16 Jesus said, "when you fast". He assumed it was a regular activity of His followers. Let's honor His way of living and His call in following Him.
4. We have a guide for you. If you don't know how to pray, or pray for longer than 5 minutes, we've got a guide to help you do that. I promise if you do this, you'll pray longer than you've ever prayed before and it will feel like no time at all.
Honestly, I really don't like fasting. Ha. I do it most every week, but I don't like it. However, fasting is a way for us to seek God in a special way in which God often accelerates His work in our life and we hear from, and get to know, Him more clearly. We'll be spending time simply resting in God's presence, praying for individual needs, and praying for the needs of our church.
I urge you to join us for these 10 days of prayer and fasting. We'll be talking about it more in our worship services this Sunday, as well as handing out a resource, but you can find more information now by going here.
I literally cannot wait to see what God is going to do and start hearing the stories that come from these 10 days!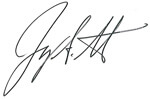 Jeremy Smith, Lead Pastor