From our Lead Pastor
The truth about riches is: surprise…you're rich! I know we don't all feel like that, and that doesn't take away the real struggle right now in our country with the economy, but according to pretty much any world stat on wealth, you're probably in the top 10% of the world.
The other truth about riches, and really the one we talked about in the sermon is: worldly wealth adds up to nothing in the end. The accumulation of riches on this earth, as much as they can help, doesn't help us when it comes to eternity with God. The "rich fool" in the parable Jesus tells in the story we looked at on Sunday in Luke 12 reminds us of that reality. If you missed the sermon, you can find it here.
Being rich in money on this earth adds up to nothing in eternity, but being rich toward God, or having a rich relationship with God pays dividends for eternity. What we do with the resources God has given us has a direct impact on our relationship with God. When we steward money God's way, it leads to our faith growing as we learn to trust in His faithfulness, and it leads to other people being impacted with His message and love.
Two tools that we offer to help steward money God's way are:
• Ramsey+ – this is most of Dave Ramsey's material that we offer for free to our church. You can find out how to access that through the Crosspoint.Church app. It should be a button at the bottom of the home screen on the app.
• Financial Peace University – this is a class Dave Ramsey offers that can literally change the way you interact with money. Check with your campus for upcoming availability of this class. I highly, highly recommend it!
Another tool is our Giving Response Card. As we end this message series, I want to encourage you to earnestly pray and ask God, "What do you want me to give to you through Crosspoint?" As God speaks to you, I pray you will take a step of faith and obediently respond. Please consider completing a Giving Response Card here to allow us to celebrate your response with you.
In Christ,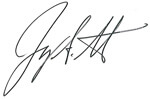 Jeremy Smith, Lead Pastor